JT-500AQ
C & R Dual Angle Chamfering Machine ( Side Mill Type)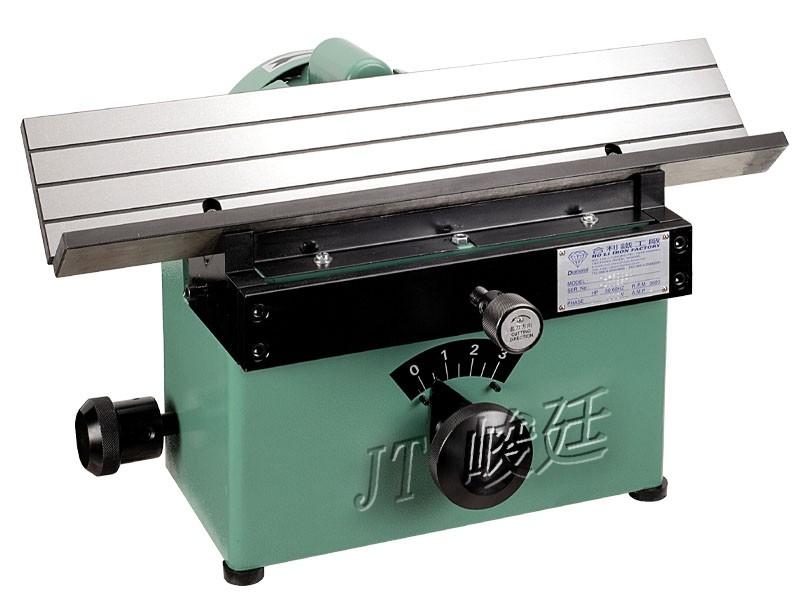 Enlarge
MODEL
JT-500AQ
Accessory
side mills Ø63mm x Ø17mm x 15mm
Machine Size
L500mm x w400mm x H320mm
Voltage
3Ø , 220v-440v or 1Ø , 110v/220v ; 50Hz/60Hz
Speed
3500 r.p.m .(Standard); 0~12000 r.p.m .(Optional)
Height of bevel
0-3mm & 2R , 3R , 5R
Bevel angle
45°
N.W./G.W.
28kgs / 31kgs
Packing
55cm x 46cm x 32cm
Measurement
3 Square feet
Motor
1 HP
Cutter Size
SPUN 1203 x 6pcs
Track Size
500mm x 100mm x 12mm ,
500mm x 40mm x12mm
Adopt with the side mill cutting. Quick exchange for the carbide knife insert.
Both C & R angle cutter are for disposable knife insert.
It's decreasing the costs of knife and increasing the working ability.
Easy chamfering any length of steel, iron, casting iron and non-metal materials.
Adjustable cutting point of C angle to make the full using of side knife.
Optional Inverter (0 ~ 12000r.p.m.).
In order to make the surface of workpeice smoothly after chamfered.
Optional accessories : R side mill cutter. The knife specification from R2 ~ R5.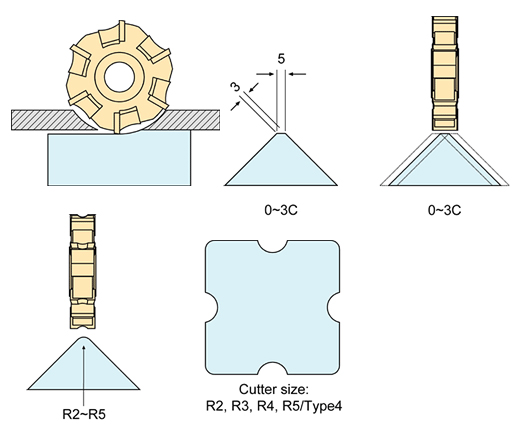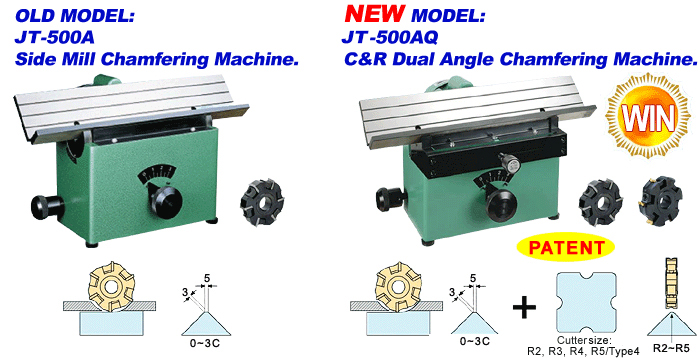 ITEM / MODEL
500A (Original)
500AQ (New model)
Cutting Tools
Side cutter only for chamfering C angle.
Optional R angle side cutter
for C+ R dual angle
   Chamfering Capacity
0~3C
0~3C, (Optional) 2R~5R
Angle adjusting for 
chamfering C
15 ~ 45 degree angle swivel.
Fixed, 45 degree angle only
Swivel track table, 
adjustable cutting point 
of side cutter.
No functions
Table can do slight adjusting front and back 
to make the side mill cutter full be used. 
Chamfered angle.
Both side of C angle with shaply angle.
The R angle with circle -radian and safety.
Costs for purchase
Simple model / Lower costs
Advance model / Higher costs
Consuming cost of 
tools ( For long-term)
High Costs
Saving half costs